Come and see Hiroshima, the "City of Water."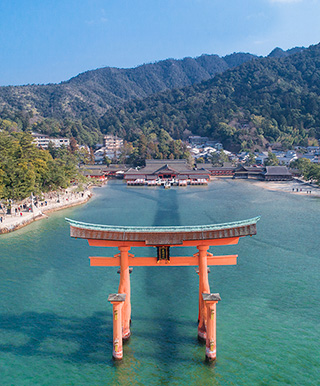 With six beautiful rivers flowing through it, Hiroshima is called the City of Water. The origins of the City date back to 1589 when Mori Terumoto, a feudal lord, built Hiroshima Castle (also referred to as Rijo, or Carp Castle) at the large delta of the Ota-gawa River. (The current castle was reconstructed after the original was destroyed by an atomic bomb during the war.)
Because the delta resembled a large island, the area was called "Hiroshima," or 'wide island' in Japanese. The town was the seat of the Mori and Fukushima families, and later of the Asano, who laid the foundations of Hiroshima's further development as the most lively castle town in western Japan.
Shukkeien Garden, located in the center of Hiroshima and a designated official National Place of Scenic Beauty, was built during the Edo Period by Asano Nagaakira, then castle lord, as a villa garden. It is popular among Hiroshima residents for its style, typical of the gardens of that time.
On August 6, 1945, the first atomic bomb in history was dropped on Hiroshima, killing some 140,000 people. Since then, however, the City has achieved a remarkable recovery from that devastation and has pursued everlasting peace for mankind.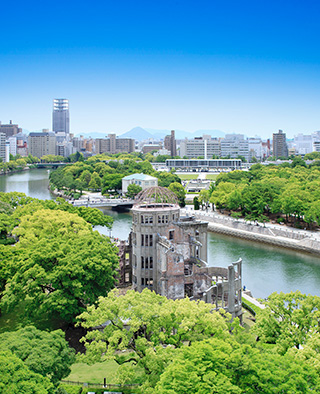 Some 1.2 million people visit the Hiroshima Peace Memorial Museum annually; there is also an endless flow of people who come to offer a silent prayer and flowers at the Cenotaph for the A-bomb Victims, and to the many other peace monuments in Peace Memorial Park. In 1996, the Atomic Bomb Dome was registered as a UNESCO World Heritage Site. It reminds visitors from all over the world of the preciousness of peace.
The city of Hiroshima, now the largest city in the Chugoku Shikoku region, is also referred to as the "City of Water." River cruise boats in and open-air cafes alongside the six rivers offer relaxing moments for tourists. MAZDA Zoom-Zoom Stadium Hiroshima, completed as a new symbol of the city in March 2009, spectators can enjoy not only watching games in different styles with various types seats, such as field seats and party floor-style seats, but also tasting a variety of delicious foods at stands lined side by side along the concourse.
Official Guide to Hiroshima Dive! Hiroshimahttps://dive-hiroshima.com/en/