Hiroshima Prefectural Sports Center
Basic information
Type

conference, exhibition, banquet hall etc. facilities・Sports facilities

Area

In Hiroshima city(Kamiya-cho zone)

Address

Hiroshima Prefectural Sports Center
4-1 Moto-machi,Naka-ku,Hiroshima,Japan 730-0011


TEL

+81-82-228-1111

FAX

+81-82-228-4992

URL

E-mail

Access

・By bus:Get off at kamiyacho or Hiroshima Bus Center
・By streetcar:Get off at Kamiyachou-nishi
・Astram Line:Get off at Kencho-mae(Exit West2)

From Hiroshima Station
・Bus:10 minutes to Kamiyacho
・Streetcar:15minutes to Kamiyacho-nishi
・JR with transfer to Astram Line:3minutes to JR Shinhakushima,then 2minutes to Kencho-mae

From Hiroshima Port
・Bus:20minutes to Kamiyacho
・Streetcar:25 minutes to Kamiyacho-nishi

From Hiroshima Airport
・Limousine Bus:About one hour to Hiroshima Bus Center






Closed

New Year Holidays(12/29~1/3)
(possible temporary closures for facility maintenance)

Business hours

9:00~21:00 (Acceptance 20 o'clock)

Booking

For the details, please see the following URL.
https://h-jigyoudan.or.jp/sports-center/center-guide/use-reserve/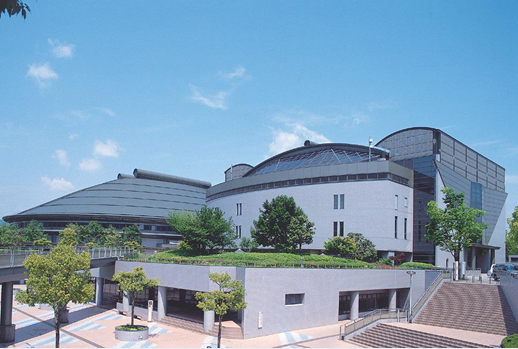 Outline of facilities
Room
Capacity
Ceiling height
Size
Internet
Equipment
Theater
School
Buffet
Others
Conference Rooms(Large)
-
-
-
-
2.26
250(26.5×9.4)
WiFi
-
Conference Rooms(Medium)
-
96
-
-
3
190(16.1×11.9)
WiFi
-
Conference Rooms(Small)
-
63
-
-
3
100(12.1×8.6)
WiFi
-
Conference Rooms(Meeting room)
-
56
-
-
3
113
WiFi
-
Sports facilities
| Room | Ceiling height | Size | Equipment |
| --- | --- | --- | --- |
| Main Arena(Hiroshima Green Arena1) | 17 | ・Floor area:approx.3,500(48m×80m)・Fixed seats:approx.4750(seating capacity roughly 10,000)・Court capacity:4 vollyball,4 basketball,4 tennis, 2 handball, 16 badminton, 28 table tennis | Confernece rooms,changing rooms |
| Sub Arena | 13 | ・Floor area:approx.1,700(35m×49m)・Fixed seats:approx.500・Court capacity:2 vollyball, 2basketball, 2 tennis, 1 handball, 10 badminton,16 table tennis | Confernece rooms,changing rooms |
| Martial Arts Arena(Judo and Kendo) | 6 | ・Floor area:approx.2200(31m×72m)・Fixd seats:approx.600 ・Court capacity :8 judo, 8 kendo(up to 12) | Confernece rooms,changing rooms |
Ohter Information
The Hiroshima Prefectual Sports Center is situated in the center of Hiroshima city,designed to blend in with the landscape of the lush park that surrounds it.
It is one of Japan's leading sports venues with facilities including a main arena(Hiroshima Green Arena)accommodating up to 10,000 spectators,asub arena,judo,and arechery arenas,and an indoor pool,among others.
The center was one of the venues for the 12th Asian Games (volleyball and gymnastics)in 1994,and for the 51st Hiroshima National Sports Festival (volleyball and archery)in 1996.